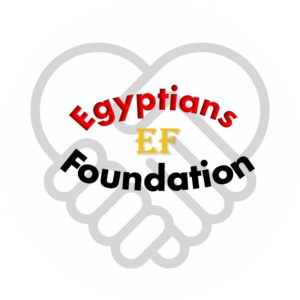 Egyptians Foundation
Egyptian Foundation is a non-profit, non-political organisation established on 2018 in Manchester by Egyptians who volunteer to support fellow Egyptians (in Manchester, UK and Egypt) during their hard times.
EF is not affiliated with any governmental or non-governmental entity anywhere and that we are a group of Egyptians with prestigious jobs and professions and who love public work working within a legal framework under the umbrella of the laws of the United Kingdom
EF is running by Board of volunteer Trustees who founded EF and set the vision of EF. Then they volunteered to run and maintain EF until setting the Board of Directors.
If a case arises, a Case Committee of 3 members of the Advisory Board will study it, followed by a decision from Board of Directors. If there is more than one case, they will be prioritized based on the urgency and the need.
EF uses donation to resolve cases in need in addition to offer any other non-financial, legal and social support.
Therefore, we ask you all to continue your support for the Voluntary Fund and the Zakat Fund and to contribute to the advisory committees
EF has contributed to solving several crises for dear brothers. Examples of some cases are:
Dear Egyptian brothers, they were in difficulty to help them continue and their families side by side after families were threatened with the expulsion of their children as a result of the conditions of residence.
Paying off the debts of some Egyptians in the UK, stopping their expulsion from their homes, and restoring stability to them and their families
Sending some amounts of Zakat to our dear Egypt to reach, through trustworthy individuals, to the hands of certain families to help them with food, clothing and living expenses
Contributing to the expenses of treating some brothers because the insurance hospitals refuse to treat them for various reasons
Covering the procedures and expenses of washing, funeral and burial within the English territory
Transferring the bodies of some dear brothers to the homeland
Distributing sacrifices to needy families in the country
Support the families of the deceased brothers financially and morally and stand by them and help them reach the stage of stability
This is in addition to contributing to solving legal, social and economic problems among Egyptians with the help of members of advisory committees
And by the grace of God Almighty, and thanks to you, the Almighty, and the diligence of the members of the Board of Trustees, we assure all donors and Zakat payers that all funds will reach their beneficiaries after extensive studies of cases and taking legal advice when needed.
We also affirm that our goal is to help all Egyptian brothers and sisters, whether financially or by any other means, to alleviate the circumstances
EF wouldn't be able to continue without your donations, Zakat and Sadaqa. EF also needs your support through volunteering in advisory board to examine cases and take appropriate decisions for each case, the Foundation would not have continued to support all Egyptians in the United Kingdom and its extension to support our people at home
Membership of EF is available to any Egyptian fellow as follow:
o Donors by donating regularly or one-off
o Zakat Payers by paying your Zakat through EF.
o Payments can be made by standing order, bank transfer or paid over the counter at the bank by the member.
o Community Bank Account details (EF-Donation or EF-Zakat) are
For donations:
Account name: Egyptians Foundation
Bank: Barclays
Account number: 70165395
Sort code: 20-55-41
For zakat:
Account name: Egyptians Foundation
Bank: Barclays
Account number: 00518697
Sort code: 20-55-41